CIM Card Imaging Systems is a world-wide leader in providing plastic card and metal plate personalization systems. CIM currently delivers one of the most complete and affordable lines of ID Card Personalization systems for small and medium business as well as an array of high end high-volume printing, personalization and packaging systems.
While most manufacturers are lowering customer service levels at the manufacturer level and creating a vicious circle by referring the customer back directly to the dealer, CIM is stepping up and offering DIRECT customer support and service through their technical support group in Miami. We are proud to be one of the premiere dealers for CIM products in North America.
| | | |
| --- | --- | --- |
| | CIM K-10 Monochrome Printer - Manual Load - Single Sided - Best Value | |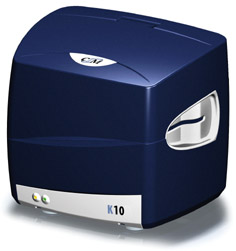 A new generation of very compact desktop monochrome card printers to print text, logos, bar codes and paper business card. Innovative and powerful To design the most cost-effective and compact card printer, our R&D Department has implemented innovative solutions. The result is the CIMAGE K10 Monochrome ID Card Printer for thermal transfer. With a serial interface, the CIMAGE K10 Monochrome ID Card Printer prints a plastic card in just 6 seconds. This compact printer requires very little space.
The CIMAGE K10 Monochrome ID Card Printer is suitable for access control cards, business cards, ID cards, visitor badges, Club membership cards, conference badges and so many other applications. CIMAGE K10 simply so simple...so small...and so very affordable.