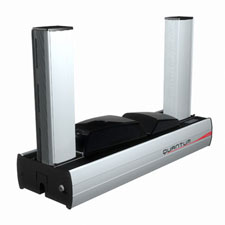 Retail Price - $8500.00
Our Price: ADD TO SSL CART TO SEE PRICE
The power of a centralized system. The flexibility of a desktop printer. This is Quantum.
Quantum, the printer to personalize cards in large quantities is now available in its latest version. Card manufacturers, bureau services, banks, universities and other organizations have the right solution to encode and print their cards and badges in volume:
ID and membership cards
Loyalty cards
Transport season cards
Event passes (trade shows, concerts, etc.)
Student IDs
Payment/banking cards
Calling cards, SIM cards
Fast throughput: 1000 + cards per hour!
The Quantum printing module can churn out more than 1000 cards per hour in monochrome (full card), and 125 cards per hour in color, mixing and matching high-resolution texts, logos, pictures and barcodes. Single or dual-sided cards? The choice is yours!
A nonstop card production process
2 brand-new detachable and interchangeable high-capacity hoppers store up to 500 cards. Additional hoppers are available as an option. Cards can be preloaded, and you can cut on those lengthy downtimes
A reversible encoding unit: fast just got faster
This exclusive feature gives it the versatility to print and encode the same side of the card without having to flip it over. You can combine magnetic, smart contact and contactless encoders within the same printer. This encoding unit can be upgraded on-site with almost any smart coupler.
Main specifications :
Dual-sided printing
Color and monochrome printing
Printing throughput: 1000+ cards per hour in monochrome, 125+ cards per hour in color – full card surface
Encoding of magnetic stripes, contact and contactless smart cards
Supports Windows 7 (32 & 64 bits), Vista (32 & 64 bits) and XP. MAC driver is available upon request
FLEXIBILITY: Print and encode almost any plastic card!
Quantum is designed to be customized on-site by the user according to the need of the moment. Its features can be scaled to support specific requirements and evolving needs.
Flexible printing
Quantum prints text, pictures and barcodes, in monochrome or color, on cards with thicknesses from 0.50 to 1 mm (20 to 40 mil), single or dual sided.

Flexible encoding
Quantum is delivered with a magnetic stripe encoder, a smart contact station and a bracket to host a contactless antenna. You can combine up to three encoding technologies. And for further flexibility, you can directly assemble your own encoder, thanks to the easy-to-access connecting board

 
PRODUCTIVITY: 1000+ monochrome cards delivered per hour!
Quantum is divided into separate modules to speed up and manage different tasks (printing and encoding) simultaneously. Quantum guarantees a printing speed of at least 1000 cards per hour in monochrome (full card), and 150 cards per hour in color
 
 
 

New processes and a patented encoding module for maximized throughput

Cards are preloaded to speed to the personalization process
With 2 distinct modules, printing and encoding tasks are performed simultaneously
The mag/smart encoding unit is reversible: the card is printed and encoded without having to be flipped over.

 

 
 
 
 
 
 

 

Autonomy, fast operation and reduced downtimes

High-capacity hoppers give a full autonomy of 500 cards
Hoppers are detachable and interchangeable : you can swap them within seconds
Add another hopper (available as an option) to preload cards and reduce downtimes to less than 1 minute!
High-capacity ribbons (up to 3000 monochrome and 500 color printouts), and a user-oriented alert system, both prevent lengthy timeouts and disruptions in the printing process.
RELIABILITY: print top-quality cards without disruption.
Quantum is about reliability. All components have been meticulously selected to support high-volume batches. As an added precaution, Quantum comes with a first-of-its-kind self-cleaning process and an airtight, dust-free cover.
Flawless encoding and printing

The printer delivers high-quality personalized cards thanks to the Evolis market-proven printing module
Manual adjustments are performed to every machine in order to ensure high-quality printing and encoding
The machine is entirely protected against dust, and the self-cleaning system has top and down rollers for spotless card cleaning on both sides
Cards with defective encoding are ejected to the reject box

 
 
 
 
 

Stay safe: with Quantum, your card production process is not disrupted

Card transport has been optimized from loading to stacking
The self-cleaning system guarantees high-quality output and an extended print head life
The metal body also ensures it is rugged and robust
A locking system prevents unauthorized access to the printer (including cards, ribbon and reject box)

 
CONVENIENCE: quick and easy operation and maintenance
Quantum is fully user-oriented. All core mechanical and electronic concepts are designed to ease and speed up daily use and maintenance
Designed to save your time
Loading cards and ribbons is a breeze, thanks to the user-friendly wide-access systems. Hoppers can be installed and removed in a jiffy and cards are sorted out in the order of printing. Quantum also offers quick and easy access to all areas requiring regular cleaning.
LCD alerts: you are in full control
A LCD screen provides notification of remaining cards when the hoppers are almost empty or full. You can also send a card into the reject box instead of the stacker.
AFFORDABILITY: flexi-features at a sound price point
Quantum takes the lead over competition thanks to multiple advanced concepts: it outperforms desktop printers and stand as an affordable alternative to industrial machines. Quantum brings a wealth of features at a cost-efficient price. Consumables are also priced to optimize your Total Cost of Ownership.
Configurations
Quantum is available as standard with mag encoder, a Smart contact station and a contactless antenna bracket.
You can order it with different contactless encoding options, factory mounted or field upgradable. To reduce downtime and stoppage, Evolis also offer the Production and Backup pack.
Printer :
Part #

Description

QTM206GRH-BS000-MB1

Quantum 2 Bundle including:

1 x QTM206GRH-BS - Quantum 2 Mag Iso, Smart contact station, Contactless ready
1 x QTM2-KT001 - Production Pack
1 x QTM2-KT002 - Backup Pack

QTM206GRH-BS
Quantum 2 Mag Iso, Smart contact station, Contactless ready
Options (factory mounted, to be ordered with a printer)
| Part # | Description |
| --- | --- |
| QTM2-OPCW | Springcard Crazy Writer encoding module - Factory mounted |
| QTM2-OPCM | Omnikey Cardman 5121 encoding module - Factory mounted |
| QTM2-OPGC | Gemcore 410 EMV encoding module - Factory mounted |
| QTM2-OPSY | Skyetek SkyeModule M9 encoding module - Factory mounted |
| QTM2-OPGP | Gemprox encoding module - Factory mounted |
Additional Packs & Accessories
Part #

Description

QTM2-KT001

Quantum Production Pack
aiming at improving Quantum 2 user operation and reduce downtime including:

1 x Detachable card hopper - Capacity 500 cards @ 30mil/ 0,76mm
1 x Set of 2 cleaning rollers
1 x Extended cleaning kit (50 cleaning cards + 25 cleaning swabs + 40 cleaning wipes)

QTM2-KT002

Quantum Backup Pack
aiming at providing the end-user with critical components replacement kit to avoid production down time or stoppage including:

1 x Quantum printing head kit
1 x Quantum Up/Down encoding module (reversible module)
1 x Detachable card hopper - Capacity 500 cards @ 30mil/ 0,76mm

QTM2-KTCW
Springcard Crazy Writer encoding kit - Field upgradable
QTM2-KTCM
Omnikey Cardman 5121 encoding kit - Field upgradable
QTM2-KTGC
Gemcore 410 EMV encoding kit - Field upgradable
QTM2-KTSY
Skyetek SkyeModule M9 encoding kit - Field upgradable
QTM2-KTGP
Gemprox encoding kit - Field upgradable
General printer specifications
Dual-sided color printing module
300 dpi print head (11.8 dots/mm)
USB & Ethernet ports
16 MB RAM allowing two card storages (front & back)
Detachable & interchangeable input & output hoppers with a capacity of 500 cards (0.76 mm or 30 mil)
Flip-over station for dual-sided printing
Detachable encoding module
2-line LCD display and status LED for printer and encoding unit monitoring
Locking system to secure access to blank cards, ribbons, films and rejected cards.
Reject tray for 20 cards (0.76 mm or 30 mil)
Printer color: Aluminium body & Black plastic covers.
ROHS compliant
Print modes
Color dye sublimation and monochrome thermal transfer
Enhanced color management system for top quality pictures
Edge-to-edge printing
Dual-sided printing
Integrated ribbon saver for monochrome printing
Integrated ½ Panel YMCKO picture management
Encoding module
Reversible unit for top & bottom magnetic & smart encoding
HiCo/LoCo Magnetic stripe encoder ISO 7811 or JIS2
Smart contact station – ISO 7816-2
Connecting panel & mounting area for users own integration of encoding units
Encoding options:
Smart encoding unit – PC/SC, EMV 2000-1
Contactless encoding unit - ISO14443A & B, Mifare, DesFire
Other types upon request
Options and accessories
Quantum Production Pack: 1 detachable card hopper, 2 cleaning rollers, 3 boxes of cleaning material
Quantum Backup Pack: 1 printing head kit, 1 Up/Down encoding module, 1 detachable card hopper
Detachable hopper with a capacity of 500 cards (0.76 mm - 30 mil)
Ribbons
2-panel KO black monochrome ribbon - 500 cards/roll
5-panel YMCKO color ribbon - 500 cards/roll
6-panel YMCKO-K color ribbon - 500 cards/roll
Half-panel YMCKO color ribbon - 400 cards/roll
Black monochrome ribbon – up to 3000 cards/roll
Other ribbons - up to 1000 cards/roll (red, green, blue, white, gold and silver)
Varnish hologram - 350 cards/roll
Scratch-Off - up to 1000 cards/roll
BlackWAX monochrome ribbon (for ABS & special varnished plastic cards) - up to 1000 cards/roll
Signature panel ribbon – up to 1000 cards/roll
Printing speed
Color 1 side (YMCKO): more than 150 cards/hour
Color 2 sides (YMCK0-K): 115 cards/hour
Monochrome 1 side full card: more than 1000 cards/hour
Supported platforms
Windows 7 (32 & 64 bits), XP and Vista (32 & 64 bits)
Mac OS X v10.4 and higher (upon request)
Linux (upon request)
Software supplied
eMedia Card Designer Software for designing and editing badges
Compatible with Windows™ 7, XP and Vista 32 & 64 bits
Connection to Microsoft™ Excel databases
Warranty
Printer, print head: 1-year warranty, limited to 500 000 passes, subject to observance of specific conditions and use of Evolis genuine consumables.
Use Evolis Genuine products for best performance and extended lifespan of your printer.
Other specifications

Card Types
All PVC, Composite PVC cards, PET, ABS1 and special varnished1 cards
Card Format
ISO CR-80 - ISO 7810 (53.98 mm x 85.60 mm - 3.375" x 2.125")
Card Thickness
From 0.5 mm (20 mil) to 1 mm (40 mil)
Resident fonts
Arial 100, Arial bold 100
Barcode - Code 39, 2/5 interleaved, Code 128, EAN13
Output hopper capacity
500 cards (0.76 mm - 30 mil)
Card feeder capacity
500 cards (0.76 mm - 30 mil)
Printer size
Without hoppers : 215 mm (H) x 850 mm (L) x 300 mm (W)
With hoppers : 567 mm (H) x 850 mm (L) x 300 mm (W)
Printer weight
21,7 kg / 47,8 lbs (18,3 kg / 40,3 lbs without hoppers)
Connections
USB (cable supplied) - Ethernet TCP-IP
Electrical
Power supply: 100-240 V AC, 50-60 Hz, 2 A
Printer: 24 V DC, 6.25 A
Environmental

Min/max operating temperature: 15° / 30° C (59° / 86° F)
Humidity: 20% to 65% non-condensing
Min/max storage temperature: -5° / +70° C (23° / 158° F)
Storage humidity: 20% to 70% non-condensing
Operating ventilation: free air
1 - Under specific conditions