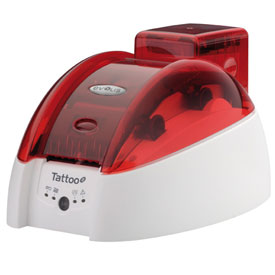 Evolis Tattoo 2 Single Sided Single Color Printer

Retail Price - $1390.00
Our Price: ADD TO SSL CART TO SEE PRICE

Add to your SECURE SSL Encrypted Shopping Cart to see our industry leading price.
CALL FOR BEST PRICE. 800-519-8800 or
+1 360-331-1071 from Outside the USA
WHAT IS MAP Pricing?

Printer Manual
The Evolis Tattoo 2 printer is a mixture of technology and innovation. High-Tech Design, compactness and ease of use, the Evolis Tattoo 2 card printer revolutionizes the world of printing on plastic cards and is the perfect solution for an entry-level ID card printer.

Small - Stylish - Reliable = Evolis Tattoo
Compact size, ease of use, core features and cost efficiency. Tattoo2 is the best deal for printing plastic cards on a small scale and for mobile applications.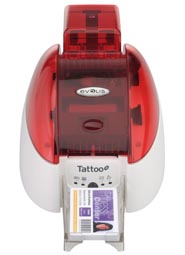 In a few seconds, Tattoo2 personalizes in monochrome or color your pre-printed or blank plastic cards.
With a 300 DPI standard resolution and "near-to-edge" printing, Tatto2 prints pictures, text, barcodes and logos as required.
Tattoo2 is a flexible solution which offers a dual card-feeding mode. Cards can be loaded automatically thanks to the 100-card feeder, but you can also use the manual loading mode for on-demand delivery. It also features a detatchable output hopper to collect printed cards.
Sleek, and with a contemporary look, Tattoo2 is today the most compact plastic card printer in its clategory. It easily fits into any location: offices, reception desks and even shop counters.
Tattoo2 fully addresses the specific needs of small organizations that print badges in low volume or just once in a while: sport clubs, SMEs, retail outlets, schools, libraries and local authorities.
It is ideal for membership cards, subscription and loyalty cards, badges for visitors and employees and much more.